Overview
There is a one-time, non-refundable enrollment fee of $100. All enrollment paperwork, including immunization form, application, emergency medical treatment authorization form, and authorization to participate in activities form need to be completed prior to a child's first day at the center.
Tuition Rates
Parents who are current members or employees of the DAC with active accounts will receive the member tuition rates. Nonmembers, frozen, suspended, nonresident, and withdrawn members will pay the nonmember rates. Tuition Rates are found in the Parent Resources section.
Tuition Refunds
There are no tuition refunds with the exception of prorated refunds that may be given to parents who provide at least sixty days' (60 days) notice before removing their child from enrollment and will be leaving before the end of a prepaid month.
60 Day Policy
Parents are required to provide a minimum of 60 days written notice to the Director prior to removing their child from enrollment. If a parent decides to drop their child from enrollment, the parent(s) will be required to pay an enrollment fee should the child be enrolled again at a later date.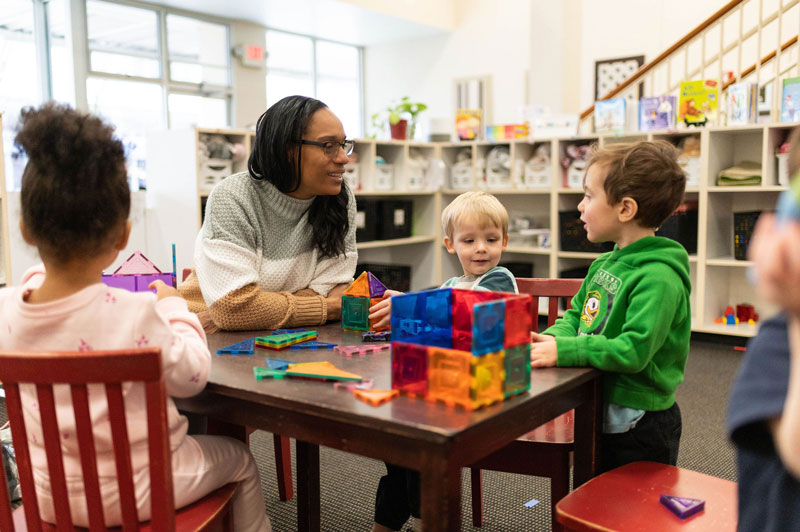 Waiting List
Currently, enrollment is open to both members of the DAC and guests. When the preschool is filled to capacity, a waiting list will be established. Members and/or siblings of presently enrolled children will have first priority for available spaces.
Schedules
We currently offer full-time enrollment. For more information, please download the Parent Handbook located in the Parent Resources section.
We'd like to hear from you!
Looking to enroll your child in Newberry or have questions for our staff? Get in touch with us by calling, emailing, or filling out the contact form below
Call: (541) 484-4011 x231
Email: bmontgomery@downtownac.com